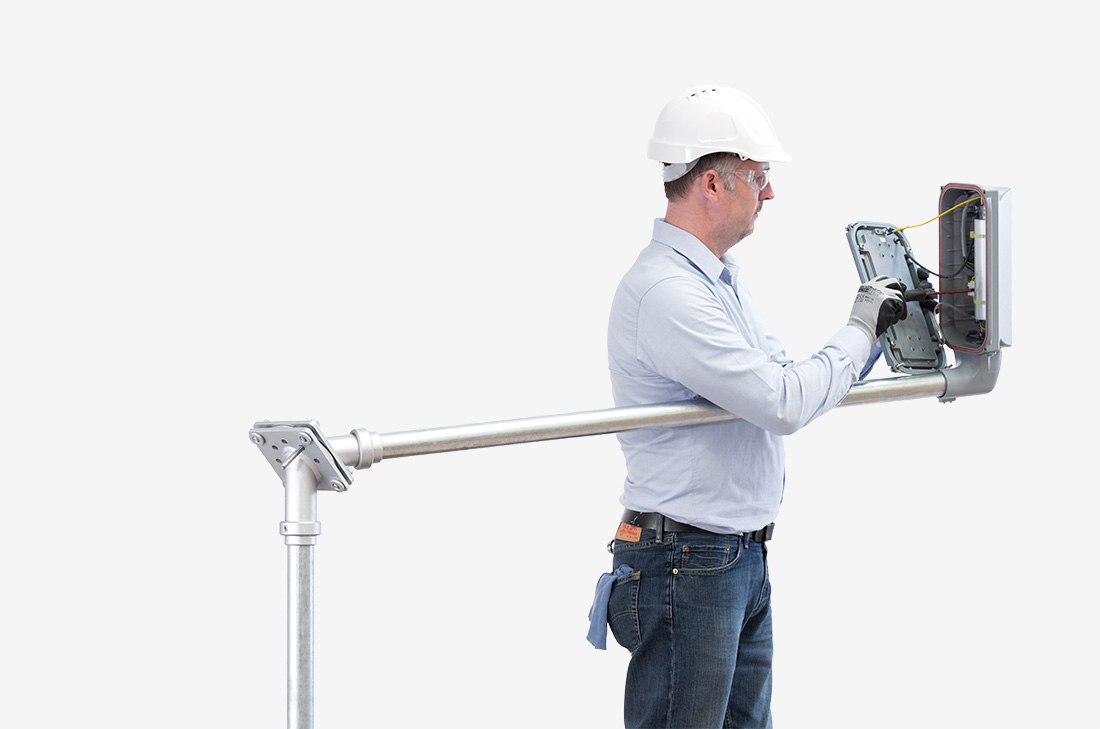 Swivelpole™ is recognized globally for providing customers with simple, fast and affordable access to fixtures and equipment through our lowering pole technology.
Our innovative access solutions eliminate the risk of working at heights, through the controlled lowering of equipment and fixtures to a safe and comfortable working position.
After almost two decades of continuous development and improvement, Swivelpole™ has developed a comprehensive product range to suit industrial, commercial and domestic applications.
Swivelpole™ have an extensive global sales history to some of the worlds' largest companies and in the most remote and challenging environments. We continue to be specified as the product of choice for proven performance and ROI.
The growth in IoT-enabled devices and technology, in addition to traditional lighting, has only increased the need to gain easy access for repairs, inspections and upgrades. Maximizing uptime, improving productivity and safety, and reducing costs are common objectives of our customers.
Swivelpole™ continue to look ahead to ensure that our solutions meet these needs now and in the future. Our product development is aligned with how to access these new devices, and diversification into all sectors including industrial, commercial and domestic markets.
With our global sales and distribution network, supported by our experienced technical and sales teams, it has never been easier to choose Swivelpole™ products and solutions.
Swivelpole™ provides easy access to fixtures and equipment.
Our Access solutions are available in three options:
Complete pole solutions for mounting fixtures and equipment.
The New Component range enables you to design and build your own lowering pole and optional adaptable mounting hardware.
The Convert range enables easy integration of Swivelpole™ technology into your existing poles.
This website uses GeoLite data created by MaxMind, available from http://www.maxmind.com
Oil & Gas | Mining & Metals | Industrial Processing | Infrastructure | Commercial | Domestic
Proven application by some of the largest international companies, and over 500,000 installations in some of the world's most remote and challenging locations.
ABB
AECOM
Aker
Amec Services
Aurecon
Ausenco
Bechtel
Black & Veatch
Burns and McDonnell
Calibre
Chiyoda Corporation
CH2M Hill
Fluor
FLSmidth
Foster Wheeler
Fyfe
Hatch Group

Jacobs Engineering
JGC
KBR
Lycopodium
McDermott International
Minerva
Mott MacDonald
Onyx
Saipem
Sandvik
Sedgman
Shaw Group
SNC Lavalin
Technip
Uhde Shedden
Wood Group
Worley Parsons
Alcoa
BASF
BHP Billiton
BP
Caltex
Cenovus Energy
Chevron
Clough
Conoco Philips
CSBP
CNRL
Dow Chemical
Exxon Mobil
FMG
Freeport McMoRan
Georgia Pacific
Glencore
Highland Valley Copper
Imperial Oil

Incitec Pivot
Inpex
Lafarge
Luminant
Marathon Oil
MEG Energy
Mosaic
NASA
Neptune Terminals
Orica
Osum
Potash Corp
Quadrant Energy
Rio Tinto
Sasol
Shell
Suncor
Syncrude
Woodside